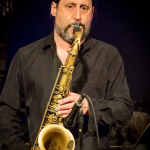 Tommy LaBella, a native of Neptune, New Jersey, has been a notable presence on the Jersey Shore and national music scene since 1974 as a versatile and talented saxophone player.  Labella's versatility is also evident in the variety of musicians and bands he has put together and performed with.  From blues, jazz, R&B to rock & roll, his musical capabilities enable him to bring his signature sound to any musical situation.  It's this ability coupled with a commanding stage presence that makes him one of New Jersey's most sought after saxophonists.
In addition to his reputation as a premier instrumentalist, LaBella is also an accomplished composer.  His songwriting versatility mirrors his playing.  Whether he's writing moving vocal ballads or groove-based smooth jazz, his songs are sincere, heartfelt – and always soulful.
For the last ten years, LaBella has been helping to cultivate the next generation of musicians through his instruction of children and young adults. His reputation as a teacher stands testament to his true dedication to his students as well as his intrinsic ability to inspire them and develop their talents.
LaBella receives inspiration from a mixture of influences including John Coltrane, Charlie Parker, Sonny Stitt, David Sanborn and Michael Brecker.  He studied under Frank Foster, former leader of The Count Basie Orchestra, and Joe Allard, both of whom have inspired his playing and songwriting.