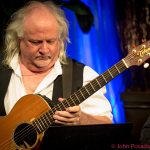 Pat Guadagno has entertained Rockefellers in New York, Kennedy's in Massachusetts, Navy Troops in the Persian Gulf and festival goers from Zihuatanejo Mexico to Rincon PR. He performed Our National Anthem at Major League ballparks and stadiums across America, and most recently at the Inauguration Ceremony of New Jersey Governor Chris Christie. His 'original interpretations of other people's art' can be heard on Radio, Film and Television. The Jersey Shore saloon singer received international acclaim when his version of Warren Zevon's DON'T LET US GET SICK was featured hit Showtime series
CALIFORNICATION
, Starring David Ducovney ……who was unaware of his presence.
The musical journey is always an unpredictable ride" says The New York Times who called Guadagno "A well-traveled troubadour with a remarkable repertoire that spans decades of Country, Blues, Rock and Soul music. His unique adaptations are showcased in his highly acclaimed debut album, "Live at the City Lights Saloon." Taking creative license with both well-known and obscure material, Guadagno makes no excuses for not writing his own material. I believe in doing what you are called upon to do and doing it the best you can. Acoustic Guitar Magazine says Guadagno combines robust vocals and rapid-fire picking with effortless intuitiveness; and would sooner re-tool a forgotten song than bring a new one into the world.
Pat recently released his 4th Album, New Jersey Material featuring performances by friends Steve Delopoulos, Buck Dharma and Keb' Mo' , showcasing music written by several of New Jersey's finest songwriters including Bruce Springsteen.
He has appeared in concert with Blues Legends B.B. King, Keb Mo', and Stevie Ray Vaughan; Country Stars Tanya Tucker, Delbert McClinton , and The Mavericks as well as Folk Legends Roger McGuinn, Peter, Paul and Mary and America…… None of whom were aware of his presence.